Well keeping with my resolution to eat healthier I've fallen back on some past recipes. Here is one of my favs that I made tonight-Roasted Vegetables.
For this recipe you will need:
Summer squash
Zucchini squash
onions
red bell pepper
yellow bell pepper
asparagus
olive oil
salt and pepper
(whatever other vegetables you would like to add)
All you do for this is cut up each vegetable to whatever size you would like (remembering not to cut too small as we are roasting them and they will cook down and shrink). Put the cut up veggies into a mixing bowl and drizzle with as much or as little olive oil as you like, just making sure to coat them nicely. Add salt and pepper to taste. Transfer the veggies to a roasting pan
Set the oven to 400--and roast for 40 minutes.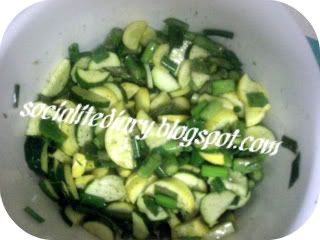 These make a great dish by themselves or as a side dish. I had them tonight with a baked sweet potato.
*
My camera died so I wasn't able to take a picture of the final product but I promise it was yummy!
♥ rai