A couple of my girlfriends and I went to the mall today--I really didn't get too much stuff for myself at all. The kids-a total different story-as always, lol. But I wasn't really feeling too much today. I did see a couple pairs of shoes that I fell in LOVE with so I'll probably go back and get those this weekend. As for clothes I just didn't see anything that made me say -damn I have to have it now- so I left with some makeup (damn they always get me) and mainly bags for the kids.
This is what I did get from MAC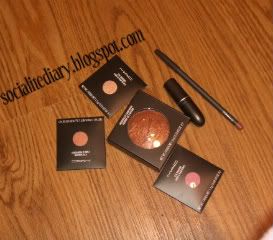 Gold Deposit Mineralize SkinFinish
Da Bling shadow
Expensive Pink shadow
Honey Lust shadow
Hover lip liner
Fresh brew lipstick
I had been wanting the gold deposit for awhile now so I'm happy that I got it-it's very pretty on the cheeks. Expensive pink is just a replacement b/c I ran out, and fresh brew is just a nude but I think it's really pretty-I like to wear nudes, I think they're pretty.
♥ rai