Hey Dolls,

I never seem to browse the sale ads so I never know what sales are going on where (like the drugstore etc). I just happened to be in Sally's the other day and they were having a Buy 2 Get One Free sale on all of their nail enamel and lashes. I love lashes! My lashes are really weird-they're just curly and no matter what I do I can't seem to make them look organized so I just wear falsies most of the time. Nail polish...I used to just get my nails done but lately I just don't feel like sitting in the nail shop AND I get bored of looking at the SAME color for too long so it can get expensive constantly going to get a color change...so I decided to take advantage of this little deal at Sally's. I also went to Walgreens and bought some more nail color-I really like the Sinful Colors brand and it's only $1.99--right up my alley, lol.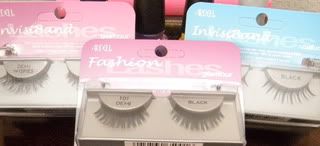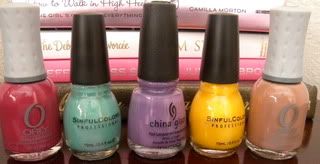 Nail colors L to R:
Orly Terra Mauve
Sinful Colors Mint Apple
China Glaze Spontaneous
Sinful Colors Let's Meet
Orly Coffee Break

I'll make sure to do some NOTW's (nail of the week) soon.
This sale at Sally's is running until the end of April!