Hello Loves and Happy New Year!
Make sure to subscribe, bookmark, whatever it is you do to keep up with your favorite internet reading because I have some great posts lined up!
Today I wanted to post about the current favorites in my makeup bag. Let's get to it!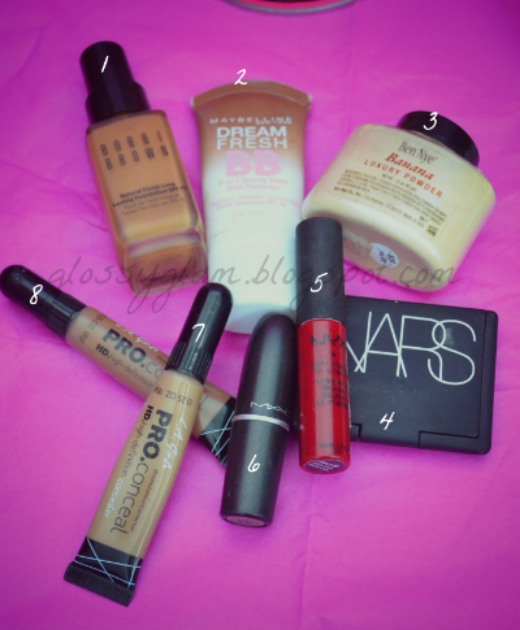 1.Bobbi Brown Natural Finish Long Lasting Foundation in Warm Almond 6.5
2.Maybelline Dream Fresh BB Cream in Deep
3.Ben Nye Banana Powder
4.Nars Taj Mahal Blush
5.NYX Soft Matte Lip Cream in Monte Carlo
6.MAC Rebel
7.L.A.Girl Pro HD Concealer - Cool Tan
8.L.A.Girl Pro HD Concealer - Toast
LA Girl Pro HD Concealer in Toast and Cool Tan. Love these concealers! I plan to do a full review on them very soon. I have three of these lovelies but these two are used the most. They are very comparable to MAC ProLongwear Concealer in case you were wondering. :) I use the Cool Tan as my everyday highlight and Toast to conceal any blemishes. If you can get your hands on these, I'm almost positive you won't be disappointed! I will go into more detail when I review them.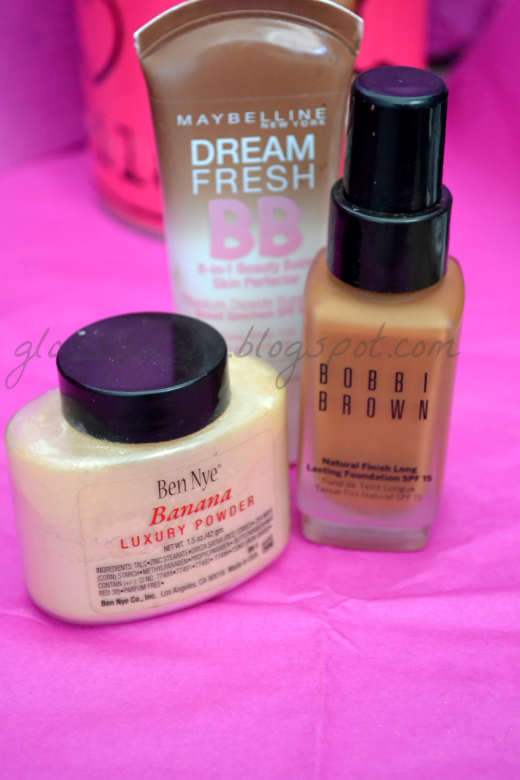 I don't own much Bobbi Brown makeup but I will say I absolutely love this foundation. It is so lightweight! The Maybelline BB Cream works pretty well too. I've been using this instead of a tinted moisturizer on days when I'm in a rush or don't feel like much fuss. Ben Nye Banana powder is used to set my highlight. I LOVE this powder!

Nars Taj Mahal is such a beautiful blush. If you have darker skin, it's absolutely gorgeous on, it gives a beautiful glow. This has definitely been a go to staple of mine on a regular basis.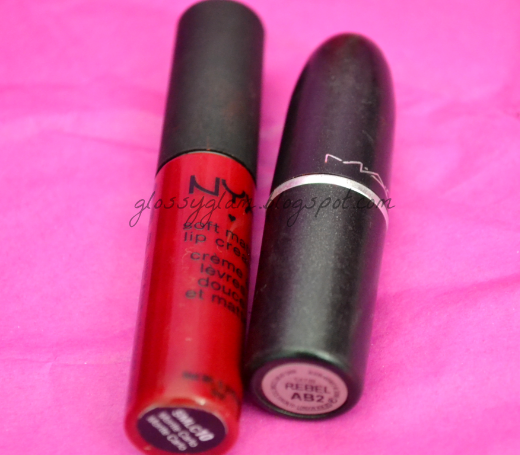 MAC Rebel and NYX Monte Carlo-Love Love Love! The Monte Carlo is definitely my favorite red. It goes on and literally stays on for hours and it's not drying. This has replaced my Ruby Woo lately. As for Rebel it's gorgeous too, especially for fall and the winter months. **I have a dupe post planned for this color**
What are your current faves right now? Let me know in the comments!
I created an
Instagram
for the blog, if you're on IG come follow me
Glossy Glam
xoxo, Sarai